Search Posts by Categories:
and subscribe to our social channels for news and music updates:
Umm Kulthum: the 100 most inspiring musicians of all time
Egyptian singer Umm Kulthūm (b. May 4, 1904?, Tummāy al-Zahāyrah, Egypt—d. Feb. 3, 1975, Cairo) mesmerized Arab audiences from the Persian Gulf to Morocco for half a century. She was one of the most famous Arab singers and public personalities in the 20th century.
Umm Kulthūm's father was a village imam who sang traditional religious songs at weddings and holidays to make ends meet. She learned to sing from him, and, when he noticed the strength of her voice, he began taking her with him, dressed as a boy to avoid the opprobrium of displaying a young daughter onstage.
Egyptian society during Umm Kulthūm's youth held singing—even of the religious variety—to be a disreputable occupation, especially for a female. Umm Kulthūm made a name for herself singing in the towns and villages of the Egyptian delta (an area throughout which she retained a great following).
By the time she was a teenager, she had become the family star.
Sometime about 1923 the family moved to Cairo, a major centre of the lucrative world of entertainment and emerging mass media production in the Middle East. There they were perceived as old-fashioned and countrified.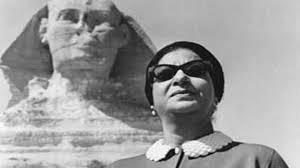 To improve her image and acquire sophistication, Umm Kulthūm studied music and poetry from accomplished performers and literati and copied the manners of the ladies of wealthy homes in which she was invited to sing. She soon made a name in the homes and salons of the wealthy as well as in public venues such as theatres and cabarets.
By the mid-1920s, she had made her first recordings and had achieved a more polished and sophisticated musical and personal style. By the end of the 1920s, she had become a sought-after performer and was one of the best-paid musicians in Cairo. Her extremely successful career in commercial recording eventually extended to radio, film, and television. In 1936, she made her first motion picture, Wedad, in which she played the title role. It was the first of six motion pictures in which she was to act.
Beginning in 1937, she regularly gave a performance on the first Thursday (which in most Islamic countries is the last day of the workweek) of every month. By this time she had moved from singing religious songs to performing popular tunes—often in the colloquial dialect and accompanied by a small traditional orchestra—and she became known for her emotive, passionate renditions of arrangements by the best composers, poets, and songwriters of the day.
These included the poets A mad Shawqī and Bayrām al-Tūnisī (who wrote many of the singer's colloquial Egyptian songs) and, later, the noted composer Mu ammad 'Abd al-Wahhāb, with whom she collaborated on 10 songs. The first of these tunes, "Inta 'Umrī" ("You Are My Life"), remains a modern classic. Her strong and nuanced voice and her ability to fashion multiple iterations of single lines of text drew audiences into the emotion and meaning of the poetic lyrics and extended for hours what often had been written as relatively short compositions.
Known sometimes as Kawkab al-Sharq ("Star of the East"), Umm Kulthūm had an immense repertoire, which included religious, sentimental, and nationalistic songs. In the midst of the turmoil created by two world wars, the Great Depression of the 1930s, and the 1952 Egyptian revolution, she cultivated a public persona as a patriotic Egyptian and a devout Muslim. She sang songs in support of Egyptian independence ("Nashīd al-Jāmi'ah" ["The University Anthem"], "Sa'alu Qalbī" ["Ask My Heart"]) and in the 1950s sang many songs in support of Egyptian leader Gamal Abdel Nasser, with whom she developed a close friendship. One
of her songs associated with Nasser—"Wallāhi Zamān, Yā Silā ī" ("It's Been a Long Time, O Weapon of Mine")—was adopted as the Egyptian national anthem from 1960 to 1979.
She served as president of the Musician's Union for seven years and held positions on numerous government commissions on the arts. Her popularity was further enhanced by her generous donations to Arab causes. After Egypt's defeat in the Six-Day War of June 1967, she toured Egypt and the broader Arab world, donating the proceeds of her concerts to the Egyptian government. Health problems plagued the singer most of her life.
During the late 1940s and early '50s, she worked only on a limited basis, and on a number of occasions throughout her life she traveled to Europe and the United States for treatment of a variety of ailments. Most obviously, problems with her eyes (purportedly from years spent in front
of stage lights) forced her to wear heavy sunglasses, which became a hallmark during her later life. Such was her popularity that news of her death provoked a spontaneous outpouring of hysterical grief, and millions of admirers lined the streets for her funeral procession.
She remained one of the Arab world's best-selling singers even decades after her death. In 2001 the Egyptian government estaEnta Oumry (Concert) – Umm Kulthum انت عمرى (حفلة) – ام كلثومblished the Kawkab al-Sharq Museum in Cairo to celebrate the singer's life and accomplishments.
Sheet Music download
Enta Oumry (Concert) – Umm Kulthum انت عمرى (حفلة) – ام كلثوم