Ennio Morricone: Deborah's Theme (Once Upon a Time in America)
The music of Once Upon a Time in America was composed by Sergio Leone's long-time collaborator, Ennio Morricone. Due to the film's unusually long production, Morricone had finished composing most of the soundtrack before many scenes had even been filmed. Some of Morricone's pieces were actually played on set as filming took place (a technique that Leone had used for Once Upon a Time in the West).
"Deborah's Theme" was in fact originally written for another film in the 1970s but rejected; Morricone presented the piece to Leone, who was initially reluctant, considering it too similar to Morricone's main title for Once Upon a Time in the West.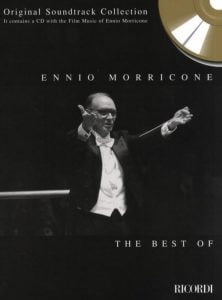 Who was Ennio Morricone?
Ennio Morricone is an Academy Award winning composer, orchestrator, and conductor from Italy. Considered one of the most influential, versatile, and experimental composers of all time, he has produced more than 500 scores and over 100 classical works.
He was indoctrinated in music by his father who gave him his first lessons on how to read music and taught him how to play various instruments. He wrote his first score at six, with his parents providing a nurturing environment for his talent to grow. The first instrument he learned in a formal setting was a trumpet. His career as an arranger began in 1950 and four years later he started working on film projects as a ghost writer. In 1964, he founded the 'Gruppo di Improvvisazione Nuova Consonanza' (G.I.N.C.) along with Franco Evangelisti and Egisto Macchi and had been one of the main members until the group's disbandment in 1980.
He was one of the principal contributors in setting up the legendary recording studio 'Forum Music Village' in 1969. Some of his best-known compositions are 'The Ecstasy of Gold', 'Se Telefonando', 'Man with a Harmonica', 'Here's to You', 'Chi Mai', 'Gabriel's Oboe' and 'E Più Ti Penso'.
Childhood & Early Life
Ennio Morricone was born on November 10, 1928, in Rome, Italy to parents Libera Ridolfi, an entrepreneur, and Mario Morricone, a trumpet player. Growing up in Trastevere, the 13th rione of Rome, alongside his four siblings, brothers Aldo and Franco, and sisters Adriana and Maria, his first exposure to music happened through his father. He wrote his first composition at six, thus proving himself to be a child prodigy.He attended 'John the Baptist Elementary School' in Rome. He enrolled at the 'Accademia Nazionale di Santa Cecilia' at 12 and completed a four-year course in six months.
He learned trumpet under Umberto Semproni. He also studied composition under the famous composer Goffredo Petrassi. When he concluded his studies at the Conservatory in 1954, he had diplomas in trumpet, composition, and band instrumentation.
Career
Ennio Morricone's professional career took off with 'Il Mattino' (The Morning), composed in 1946. In the ensuing years, he would exhibit the diversity of his genius not only by producing music for theatre and classical music for voice and piano, but also by writing arrangements for some American-style medleys for a series of radio shows.His move from radio shows to films was swift. In 1950, he began his career as an arranger. He briefly worked for the Italian broadcasting service RAI in the mid-1950s before taking up a position as top studio arranger at RCA Victor, where he had the chance to collaborate with the likes of Renato Rascel, Rita Pavone, and Mario Lanza.
Later he started to compose music as a ghost writer for several film projects. He was an uncredited co-composer of Mario Nascimbene's score to the drama 'Morte Di Un Amico' (Death of a Friend), released in 1959.In 1961, he made his film debut by writing and composing music for the Luciano Salce Italian war drama, 'Il Federale' (The Fascist). Thus began a fruitful partnership for both of them that would last years. The other Salce films for which Morricone composed music include, 'Crazy Desire' (1962), 'Slalom' (1966), and 'El Greco' (1966).
He co-founded the 'Gruppo di Improvvisazione Nuova Consonanza' (G.I.N.C.) in 1964. As part of G.I.N.C., he experimented with anti-musical systems and noise techniques to explore or create new definitions of music ensemble or "New Consonance".Performing and producing avant-garde free improvisations, the group released seven albums, 'Gruppo di Improvvisazione Nuova Consonanza' (1966), 'The Private Sea of Dreams' (1967), 'Improvisationen' (1968), 'The Feed-back' (1970), 'Improvvisazioni a Formazioni Variate' (1973), 'Nuova Consonanza' (1975) and 'Musica su Schemi' (1976).Morricone established the 'Forum Music Village' in 1969 in Rome. It is a joint-effort between him, Armando Trovajoli, Luis Bacalov, Piero Piccioni, and Enrico De Melis. Besides being the studio where Morricone has produced all his compositions in the last 40 years, it also has hosted several prominent musicians.
His music adds character and layers to films. Be it comedies, spaghetti westerns, dramas, or horrors, he is equally at ease. He has worked with Sergio Corbucci, Sergio Sollima, Édouard Molinaro, Marco Bellocchio, Sergio Leone, Mauro Bolognini (with whom he did 15 films), Dario Argento and others.He has collaborated at the international level as well, producing scores for films with Marlon Brando, Jerzy Kawalerowicz, Georges Lautner and others. In Hollywood, he has also been involved in projects helmed by filmmakers such as Don Siegel, Brian De Palma, Barry Levinson, Warren Beatty, Oliver Stone and Roland Joffé.
Major Works
In a career spanning seven decades, Ennio Morricone has composed some of the most memorable scores in the history of cinema. The score from Leone's 'The Good, the Bad, and the Ugly' (1966) has been inducted into the Grammy Hall of Fame. He had also composed music for the other two films in the so-called 'Dollar Trilogy': 'A Fistful of Dollars' (1964) and 'For a Few Dollars More' (1965)The score of another Leone collaboration, 'Once Upon a Time in the West' (1972) has sold over 10 million copies worldwide. The last film in Leone's career, 'Once Upon a Time in America', also featured Morricone's compositions. The soundtrack was released in 1984 through 'Mercury Records'.
Awards and Achievements
Ennio Morricone was conferred with 'Pardo d'Oro alla carriera' at the 1989 'Locarno Film Festival'.He was given 'Golden Lion Honorary Award' at the 'Venice Film Festival' in 1995.
In 2006, he was awarded the rank of the Grand Officer (official title: Grande Ufficiale Ordine al Merito della Repubblica Italiana). He was nominated for the order by then President of Italy Carlo Azeglio Ciampi.He has won two Oscars. In 2007, he became the recipient of the 'Honorary Academy Award' for his extraordinary contribution to film and music. Having been nominated in the category of 'Best Original Score' five different times previously, Morricone finally won the award in 2016 for Quentin Tarantino's directorial venture 'The Hateful Eight'. This was Morricone's first western film since the 1981 release 'Occhio Alla Penna'.
Beside winning two Oscars, he has received three Grammy Awards, three 'Golden Globes', six BAFTAs, ten 'David di Donatello', eleven 'Nastro d'Argento', three 'European Film Awards', and one 'American Film Institute Award' to name a few.
Personal Life & Legacy
Ennio Morricone has been married to Maria Travia since 13 October 1956. Their eldest son, Marco was born in 1957, followed by their daughter Alessandra (1961), middle son Andrea (1964) and the youngest Giovanni (1966). Despite working significantly in the US, he has never been inclined to move out of Italy.
His music has influenced several generations of artists, including Radiohead, Hans Zimmer, 'Red Hot Chilli Peppers', Danger Mouse, and Will.i.am.
Trivia
At the beginning of his career, he used anglicised nicknames like Dan Savio and Leo Nichols to produce his works.
Morricone's critically acclaimed soundtrack for Roland Joffé's 1986 period drama film 'The Mission' was certified Gold by RIAA. He is the composer of the 1978 FIFA World Cup theme.He gives interviews only in Italian as he feels his English is not fluent enough.