Jazz Noir Music (with sheet music) 50 min. of a selection of the best Film Noir Music
Jazz Noir Music (with sheet music) 50 min. of a selection of the best Film Noir Music:https://sheetmusiclibrary.website/fil…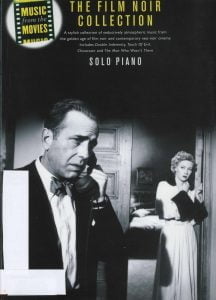 Contents:

00:00 Harlem Nocturne
05:31 Why Don't You Do Right?
09:40 Angel Eyes
12:52 My Funny Valentine
19:28 Moonlight Serenade
25:29 Night and Day
29:47 Waitin' For A Train To Come In
34:01 In A Sentimental Mood
39:48 Moonlight in Vermont
43:34 'Round Midnight
Film noir, (French: "dark film") style of filmmaking characterized by such elements as cynical heroes, stark lighting effects, frequent use of flashbacks, intricate plots, and an underlying existentialist philosophy. The genre was prevalent mostly in American crime dramas of the post-World War II era. Early examples of the noir style include dark, stylized detective films such as John Huston's The Maltese Falcon (1941), Frank Tuttle's This Gun for Hire (1942), Otto Preminger's Laura (1944), and Edward Dmytryk's Murder, My Sweet (1944).
Banned in occupied countries during the war, these films became available throughout Europe beginning in 1946. French cineastes admired them for their cold, cynical characters and dark, brooding style, and they afforded the films effusive praise in French journals such as Cahiers du cinéma. French critics coined the term film noir in reference to the low-keyed lighting used to enhance these dramas stylistically—although the term would not become commonplace in international critical circles until the publication of the book Panorama du film noir americain (1955) by Raymond Borde and Étienne Chaumeton.