Jimi Hendrix: the 100 most inspiring musicians of all time
American rock guitarist, singer, and composer Jimi Hendrix (b. Nov. 27, 1942, Seattle, Wash., U.S.—d. Sept. 18, 1970, London, Eng.) fused American traditions of blues, jazz, rock, and soul with techniques of British avant-garde rock to redefine the electric guitar in his own image.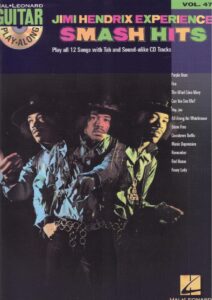 Though his active career as a featured artist lasted a mere four years, Jimi Hendrix altered the course of popular music and became one of the most successful and influential musicians of his era. An instrumentalist who radically redefined the expressive potential and sonic palette of the
electric guitar, he was the composer of a classic repertoire of songs ranging from ferocious rockers to delicate, complex ballads. He also was the most charismatic in-concert performer of his generation.
Moreover, he was a visionary who collapsed the genre boundaries of rock, soul, blues, and jazz and an iconic figure whose appeal linked the concerns of white hippies and black revolutionaries by clothing black anger in the colorful costumes of London's Carnaby Street.
A former paratrooper whose honorable medical discharge exempted him from service in the Vietnam War, Hendrix spent the early 1960s working as a freelance accompanist for a variety of musicians, both famous and obscure.
His unorthodox style and penchant for playing at high volume, however, limited him to subsistence-level work until he was discovered in a small New York City club and brought to England in August 1966.
Performing alongside two British musicians, he stunned London's clubland with his instrumental virtuosity and extroverted showmanship. Members of the Beatles, the Rolling Stones, and the Who were among his admirers, but it proved a lot easier for Hendrix to learn their tricks than it was for them to learn his.
Jimi Hendrix had an encyclopedic knowledge of the musical roots on which the cutting-edge rock of his time was based, but, thanks to his years on the road with the likes of Little Richard and the Isley Brothers, he also had hands-on experience of the cultural and social worlds in which those roots had developed and a great admiration for the work of Bob Dylan, the Beatles, and the Yardbirds.
Speedily adapting the current musical and sartorial fashions of late 1966 London to his own needs, he was soon able not only to match the likes of the Who at their own high volume, guitar-smashing game but also to top them with what rapidly became the hottest-ticket show in town.
By November his band, the Jimi Hendrix Experience, had their first Top Ten single, "Hey Joe." Two more hits, "Purple Haze" and "The Wind Cries Mary," followed before their first album, Are You Experienced?, was released in the summer of 1967, when it was second in impact only to the Beatles' Sgt. Pepper's Lonely Hearts Club Band.
Its immediate successor, Axis: Bold as Love, followed that December. Hendrix was flown to California for a scene stealing appearance at the Monterey Pop Festival, which rendered him a sensation in his homeland less than a year
after his departure.
Relocating back to the United States in 1968, he enjoyed further acclaim with the sprawling, panoramic double album Electric Ladyland, but the second half of his career proved frustrating.
Legal complications from anold contract predating his British sojourn froze his recording royalties, necessitating constant touring to pay his bills; and his audiences were reluctant to allow him to progress beyond the musical blueprint of his earliest successes.
He was on the verge of solving both these problems when he died of an overdose of barbiturates. In his all-too brief career, Hendrix managed to combine and extend the soaring improvisational transcendence of John Coltrane, the rhythmic virtuosity of James Brown, the bluesy intimacy of John Lee Hooker, the lyrical aesthetic of Bob Dylan, the bare-knuckle onstage aggression of the Who, and the hallucinatory studio fantasias of the Beatles.
His work provides a continuing source of inspiration to successive generations of musicians to whom he remains a touchstone for emotional honesty, technological innovation, and an all-inclusive vision of cultural and social brotherhood.
Tracklist:
0:06 Purple Haze 3:58 All Along The Watchtower 7:59 Hay Joe 14:14 Foxy Lady 18:58 The Wind Cries Mary 23:11 Fire 25:57 Red House 30:19 Little Wing 34:10 Voodoo Child 41:31 Crosstown Traffic 43:50 Angel 47:04 Manic Depression 54:14 Castles Made Of Sand 57:01 Stone Free