Ennio Morricone – Once upon a time in America – Nuovo Cinema Paradiso – Piano & Bandoneon
Morricone's Sheet music is fully available in our Library
Ennio Morricone, the Italian composer whose symphonic scores backed everything from spaghetti westerns to romance, horror and sci-fi films, has died aged 91.
Track Kist: 1. This Kind of Love (Questa Specie D'Amore) 2. Love Theme for Nata (Cinema Paradiso) 3. La Califfa 4. Romanza Quartiere (Quartiere) 5. Chi Mai (Maddalena & Le professionel) 6. Ninna Nanna per Adulteri (Cuore di Mamma) 7. Silvie – Momento D'Amore (Via Mala) 8. La Messicana (Vamos a matar compañeros) 9. Once Upon a Time in the West (with. Edda Dell'Orso) 10. Irene (Gli intoccabili)
11. La Donna e la Campagna (La Califfa) 12. Lei Mi Ama (D'amore si Muore – For Love One Dies) 13. Cinema Paradiso – Main Theme 14. Una Fotografia (L'Alibi) 15. Poesia di una Donna – Version 3 (Veruschka) 16. In ogni casa una storia (Quartiere) 17. Le Foto Proibite di una Signora per Bene 18. La Scoperta dell'America – Love Theme 19. Tema di Dunja (Il Fiore delle Mille e una Notte – Arabian Nights)
20. A Lidia (Scusi Facciamo l'Amore ? – Listen, Let's Make Love) 21. De Copalamo (La Cugina) 22. Viaggio con Anita 23. Eros Profondo (La Donna Invisibile – The Invisible Woman)
Ennio Morricone, (10 November 1928 – 6 July 2020) was an Italian composer, orchestrator, conductor, and former trumpet player who wrote music in a wide range of styles. Morricone composed over 400 scores for cinema and television, as well as over 100 classical works. He started as a talented football player for A.S. Roma but left the sport to follow his passion for music. His score to The Good, the Bad and the Ugly (1966) is considered one of the most influential soundtracks in history and was inducted into the Grammy Hall of Fame.
His filmography includes over 70 award-winning films, all Sergio Leone's films since A Fistful of Dollars, all Giuseppe Tornatore's films since Cinema Paradiso, The Battle of Algiers, Dario Argento's Animal Trilogy, 1900, Exorcist II, Days of Heaven, several major films in French cinema, in particular the comedy trilogy La Cage aux Folles I, II, III and Le Professionnel, as well as The Thing, The Mission, The Untouchables, Mission to Mars, Bugsy, Disclosure, In the Line of Fire, Bulworth, Ripley's Game and The Hateful Eight.
After playing the trumpet in jazz bands in the 1940s, he became a studio arranger for RCA Victor and in 1955 started ghost writing for film and theatre. Throughout his career, he composed music for artists such as Paul Anka, Mina, Milva, Zucchero and Andrea Bocelli. From 1960 to 1975, Morricone gained international fame for composing music for Westerns and—with an estimated 10 million copies sold—Once Upon a Time in the West is one of the best-selling scores worldwide.
From 1966 to 1980, he was a main member of Il Gruppo, one of the first experimental composers collectives, and in 1969 he co-founded Forum Music Village, a prestigious recording studio. From the 1970s, Morricone excelled in Hollywood, composing for prolific American directors such as Don Siegel, Mike Nichols, Brian De Palma, Barry Levinson, Oliver Stone, Warren Beatty, John Carpenter and Quentin Tarantino. In 1977, he composed the official theme for the 1978 FIFA World Cup.
He continued to compose music for European productions, such as Marco Polo, La piovra, Nostromo, Fateless, Karol and En mai, fais ce qu'il te plait. Morricone's music has been reused in television series, including The Simpsons and The Sopranos, and in many films, including Inglourious Basterds and Django Unchained. He also scored seven Westerns for Sergio Corbucci, Duccio Tessari's Ringo duology and Sergio Sollima's The Big Gundown and Face to Face.
Ennio Morricone worked extensively for other film genres with directors such as Bernardo Bertolucci, Mauro Bolognini, Giuliano Montaldo, Roland Joffé, Roman Polanski and Henri Verneuil. His acclaimed soundtrack for The Mission (1986) was certified gold in the United States. The album Yo-Yo Ma Plays Ennio Morricone stayed 105 weeks on the Billboard Top Classical Albums.
Morricone's best-known compositions include "The Ecstasy of Gold", "Se Telefonando", "Man with a Harmonica", "Here's to You", the UK No. 2 single "Chi Mai", "Gabriel's Oboe" and "E Più Ti Penso". In 1971, he received a "Targa d'Oro" for worldwide sales of 22 million, and by 2016 Morricone had sold over 70 million records worldwide. In 2007, he received the Academy Honorary Award "for his magnificent and multifaceted contributions to the art of film music." He has been nominated for a further six Oscars.
In 2016, Morricone received his first competitive Academy Award for his score to Quentin Tarantino's film The Hateful Eight, at the time becoming the oldest person ever to win a competitive Oscar. His other achievements include three Grammy Awards, three Golden Globes, six BAFTAs, ten David di Donatello, eleven Nastro d'Argento, two European Film Awards, the Golden Lion Honorary Award and the Polar Music Prize in 2010. Morricone has influenced many artists from film scoring to other styles and genres, including Hans Zimmer,Danger Mouse, Dire Straits, Muse, Metallica, and Radiohead.
Morricone's Sheet music is fully available in our Library.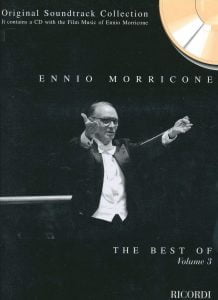 List of compositions by Ennio Morricone
Classic (absolute) music
Ennio Morricone's classical compositions include over 15 piano concertos, 30 symphonic pieces, choral music, one opera and one mass. His first classical pieces date back to the late-forties.
Il Mattino (for voice and piano) 1946
Imitazione (for voice and piano) 1947
Iintimità (for voice and piano) 1947
Barcarola funebre (for piano) 1952
Preludio a una Novella senza titolo (for piano) 1952
Distacco I (for voice and piano) 1953
Distacco II (for voice and piano) 1953
Verrà la morte (for contralto and piano) 1953
Oboe sommerso (for baritone and five instruments) 1953
Musica (for piano and string orchestra) 1954
Variations on a theme by Frescobaldi (for piano) 1955
Cantata (for orchestra and mixed chorus singing a text by Cesare Pavese) 1955
Twelve Variations (for oboe d'amore, cello and piano) 1956
Invenzione, canone e ricercare (for piano) 1956
Concerto (for orchestra) 1957
Distanze (for violin, cello and piano) 1958
Requiem per un destino (for mixed chorus and orchestra) 1966
Suoni per Dino (a piece for viola virtuoso Dino Asciolla using 2 magnetic tapes) 1969
Proibito (for 8 trumpets) 1972
Gestazione (for female voice and instruments plus pre-recorded electronic sounds and an ad lib string orchestra) 1980
Totem secondo (for 5 bassoons and 2 contrabassoons) 1981
Second Concerto (for flute, cello and orchestra) 1984–85
Four Studies (for piano) 1984–89
Frammenti di Eros (Cantata for soprano, piano and orchestra to a text by Sergio Miceli) 1985
Cantata per L'Europa (for soprano, two vocal recitals, mixed chorus and orchestra) 1988
Mordenti (for harpsichord) 1988
Epos (for orchestra) 1989
Study (for double-bass) 1989
Reflessi (for cello) 1989–90
Frammenti di giochi (for violin and harp) 1990
Third Concerto (for guitar, marimba and string orchestra) 1990–91
UT (for trumpet, timpani, bass drum and string orchestra) 1991
Una via crucis ('Stations of The Cross' in various vocal and instrumental combinations and in collaboration with Michele Dall'Ongaro and Egisto Macchi)
Vidi aquam (for soprano and small orchestra) 1993
Elegia per Egisto (a piece for violin dedicated to his fellow-Nuova Consonanza member Egisto Macchi) 1993
Il silenzio, il gioco, la memoria (for a chorus of children's voices singing a text by Sergio Miceli) 1994
Partenope (an opera with a libretto by Guido Barbieri and Sandro Cappelletto) 1996
Passaggio secondo (for flute, oboe, clarinet, bassoon, French horn, 20 strings and a vocal recital of a text by Allen Ginsberg) 1996
Scherzo (for violin and piano) 1996; Ombra di lontana presenza (for viola, string orchestra and magnetic tape) 1997
Nocturne and Passacaglia (for flute, oboe, clarinet, piano and strings) 1998
Amen (for 6 choruses of mixed voices) 1998
Pietre (for double chorus, percussion and cello) 1999
For the Children Killed by the Mafia (for soprano, baritone, 6 instruments and two voices reciting a text by Luciano Violente) 1999
Abenddämmerung (for violin, cello, piano and soprano or mezzo-soprano singing a text by Heinrich Heine) 2000
If This Be a Man (for soprano, violin, strings and vocal recital of a text by Primo Levi) 2001
Voci dal silenzio (for vocal recital, recorded voice, chorus and orchestra) 2002
Finale (for two organs) 2002
Riverberi (for flute, cello and piano) 2004
Missa Papae Francisci (mass for double chorus, orchestra and organ) 2015
Live albums
Ennio Morricone live (with Metropole Orchestra) (1987)
Concerto Premio Nino Rota (1995)
Ennio Morricone – Live (1995)
Morricone dirige a Morricone (1998)
Cinema Concerto: Ennio Morricone at Santa Cecilia (1999)
Verona Arena Concerto (2002)
La leggenda della pianista (2003)
Focus: Ennio Morricone & Dulce Pontes (2004)
Voci dal silenzio (2004)
Morricone Conducts Morricone: The Munich Concert 2004 (2006)
Note di Pace/Peace Notes: Live at Piazza San Marco, Venice (2008)
Giorgio Armani presents Musica per il cinema (2CD)(2012)
Studio albums
with Gruppo di Improvvisazione di Nuova Consonanza
1966 "Nuova Consonanza", LP RCA
1967 "The Private Sea of Dreams" (as Il Gruppo), LP RCA Victor
1968 "Improvisationen" LP Deutsche Grammophon
1970 "The Feed-back" (as The Group), LP RCA
1973 "Improvvisazioni a Formazioni Variate" (also known as "Gruppo d'Improvvisazione Nuova Consonanza"), LP General Music
1975 "Nuova Consonanza", LP Cinevox Records. Reissue 2007 CD Bella Casa
1976 "Musica su Schemi", LP Cramps Records. Reissue 2002: LP Get Back, CD Ampersand
1992 "1967–1975", CD Edition RZ
2006 "Azioni", CD Die Schachtel
2010 "Niente", CD Cometa Edizioni Musicali. Reissue 2012 LP The Omni Recording Corporation/The Roundtable
2011 "Eroina", CD Cometa Edizioni Musicali
with Chico Buarque
Per un pugno di samba (1970, Chico Buarque & Ennio Morricone)
Sonho de um Carnaval (2000, Chico Buarque & Ennio Morricone)
De sa terra a su xelu (2002, Clara Murtas & Ennio Morricone)
other
Selected compilations
Morricone: Belmondo (1971)
Take off: Film Hits (1978)
Oscar Valdambrini (1982)
His Greatest Themes (1986)
Film Music, Vol. 1: The Collection (1987)
Film Music, Vol. 2 (1988)
Once Upon a Time in the West: 20 Famous Film Tracks of Ennio Morricone (1989)
Zijn Grootste Successen (1990)
Chamber Music (1990)
The Legendary Italian Westerns (1990)
Original Film Musik Von Ennio Morricone (1993)
93 Movie Sounds (1994)
Classic Ennio Morricone (1994)
Spaghetti Western: The Ennio Morricone Collection (1995)
The Ennio Morricone Anthology: A Fistful of Film Music (1995)
An Ennio Morricone: Dario Argento Trilogy (1995)
Anthology: Main Titles & Rare Tracks (1995)
With Love: Music Composed & Conducted By (1995)
Neapolitan Songs (1995)
Best of Ennio Morricone (BMG) (1995)
Love Themes (1995)
Film Hits (1995)
Western Movie Themes from Clint Eastwood Movies (1995)
Film Festival (1995)
Movie Classics: The Music of Ennio Morricone & Hugo Montenegro (1996)
TV Film Music (1996)
Time of Adventure (1996)
Main Titles, Vol. 1 (1965–1995) (1996)
Magic World of Ennio Morricone (1996)
Once Upon a Time in the Cinema (1996)
Time for Suspense (1996)
Fear According to Morricone (1997)
Singles Collection, Vol. 2 (1997)
Film Music by Ennio Morricone (Disky) (1998)
Movie Classics (1998)
Ennio Morricone Songbook, Vol. 2: Western Songs & Ballads (1998)
Mondo Morricone (1999)
1966–1987 (1999)
Love Themes (1999)
Main Titles, Vol. 3: 1965–1985 (1999)
With Love, Vol. 2 (1999)
The Gangster Collection (1999)
Morricone 2000 (1999)
The Thriller Collection (1999)
Once Upon a Time in the West (Compilation) (1999)
Selections from Chronicle (1999)
Genius of Ennio Morricone (2000)
The Very Best of Ennio Morricone (2000)
Psycho Morricone (2001)
40th Commemoration: Ultimate Soundtracks Collection (2001)
40th Commemoration: Ultimate Italian Pops Collection (2001)
40th Commemoration: Ultimate Mood Music Collection (2001)
Mondo Morricone Revisited, Vol. 1 (2002)
More Mondo Morricone Revisited, Vol. 2 (2002)
Molto Mondo Morricone, Vol. 3 (2002)
Morricone in the Scene: Chase Morricone (2002)
Bizarre Morricone (2002)
Lounge Morricone (2002)
Notte Morricone (2002)
Vivid Sound (2002)
Signor Morricone Tempo (2002)
Psichedelico Jazzistico (2004)
Erotica Morricone: So Sweet So Sensual (2004)
Casa Della Musica (2004)
A Celebration of Ennio Morricone's 75th Anniversary (2004)
Great Melodies of Ennio Morricone (2004)
Movie Masterpieces (2004)
Morricone Aromatico (2004)
Once Upon a Time… The Essential Ennio Morricone (2004)
Film Music Maestro (2004)
The Best of Ennio Morricone (Setteottavi) (2005)
Morricone Happening (2005)
Most Famous Hits (2005)
Morricone Kill: Spaghetti Western Magic from the Maestro (2005)
Morricone High (2005)
Morricone in Love (2005)
Maestro (2005)
Crime and Dissonance (2005)
Itinerary of a Genius (2005)
Bandes Originales de Film (2005)
The Library, Vol. 1 (Musiche Composte Per il Cinema) (2005)
My Favorite Ennio Morricone Music (2005)
Ennio Morricone Deluxe (2006)
Il West di Morricone (2006)
Una Storia Italiana (2006)
Most Famous Hits: Ennio Morricone – Western Film Music: The Album (2006)
Gold Collection (2006)
Film Music by Ennio Morricone (Silva Screen) (2006)
Morricone Award (2007)
Morricone: Western (2007)
Grand Collection (2007)
World of Ennio Morricone (2007)
Ennio Morricone (2007)
The Soundtracks: 75 Themes from 53 Films (2007)
50 Movie Theme Hits: Gold Edition, Vol. 2 (2007)
In Lounge (2007)
Original Songs (2007)
Morricone Award (CD + Book) (2007)
Made In France (2007)
Un'ora Con Ennio Morricone (2007)
Edda Dell'Orso performs Ennio Morricone (2 CD) (2008)
In Lounge, Vol. 2 (2008)
The Platinum Collection: Original Soundtrack (2008)
Morricone In The Brain (2009)
Ennio Morricone Earbook 4 CD (2013)
Cinema collection – I 30 capolavori della musica da film italiana (2013)
L'essentiel d'Ennio Morricone (2013)
The Ennio Morricone Pop Collection, Vol. 1 (2013)
The Ennio Morricone Pop Collection, Vol. 2 (2013)