Track List:
00:00 St. Louis Blues
08:20 Koto Song
14:22 Three To Get Ready
18:39 In Your Own Sweet Way
24:47 Take Five
Jazz Icons: Dave Brubeck boasts two beautifully filmed concerts from one of the most beloved quartets in jazz history.
Captured at the pinnacle of their power and popularity, Paul Desmond (alto sax), Joe Morello (drums), Eugene Wright (bass) and Dave Brubeck (piano) explore the trails they blazed into the realm of odd time signatures and two versions of their groundbreaking hit Take Five, as well as forays into world music with two unique interpretations of Koto Song.
Their intimate onstage chemistry and impeccable musicianship made the DBQ an award-winning jazz supergroup.
Personnel:
Dave Brubeck – piano
Paul Desmond – alto saxophone
Eugene Wright – double bass
Joe Morello – drums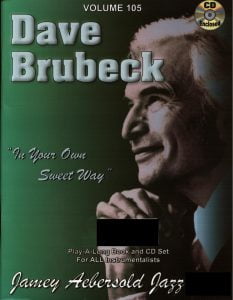 The Dave Brubeck Quartet est un quartet de jazz fondé en 1951 par Dave Brubeck, incluant Brubeck au piano et Paul Desmond au saxophone. Il est l'auteur des standards Take Five et Blue Rondo a la Turk.
Tout au long de son existence, la formation connaîtra de nombreux changements de configuration ; parmi les musiciens ayant joué dans le groupe :
Joe Morello et Alan Dawson (batterie),
Eugene Wright (contrebasse),
Gerry Mulligan (saxophone baryton),
Bobby Militello (saxophones alto et ténor, flûte)
Willie Smith (clarinette).
Le quartet contribua à élargir le public du jazz et à lutter pour l'intégration raciale, grâce à la présence du contrebassiste noir Eugene Wright.
Discographie partielle
Jazz at the College of the Pacific (1953) Fantasy Records
Jazz at Oberlin (1953) Fantasy Records
Jazz Goes to College (en) (1954) Columbia Records
Time Out (1959) Columbia Records/Legacy
Time Further Out (1961) Columbia Records/Legacy
Countdown Time in Outer Space (1962) Columbia Records
"Brubeck in Amsterdam" (1962) Columbia Records
Brandenburg Gate: Revisited (1963) Columbia Records
Jazz Impressions of Japan (1964) Columbia Records/Legacy
DBQ In Berlin (1964) Columbia Records
Time changes (1964) Columbia Records
Dave Brubeck's Greatest Hits (1966) Columbia Records/Legacy
Time In (1966) Columbia Records
Jackpot (1966, live in Las Vegas) Columbia Records
Adventures in Time (1968) Columbia Records
DBQ 25th Anniversary Reunion (1976) A&M Records
The Dave Brubeck Quartet at Carnegie Hall (2001) Columbia Records
The Absolutely Essential (2010) Big3 Records - Coffret 3 CD
The Columbia Years (2014) Not Now Music
Time OutTakes (2020) Brubeck Editions
The Dave Brubeck Quartet war ein Jazz-Quartett, das 1951 von Dave Brubeck am Piano zusammen mit Paul Desmond am Saxophon gegründet wurde. Sie spielten lange Zeit im Blackhawk Club in San Francisco und erfuhren eine große Bekanntheit durch Alben wie Jazz at Oberlin, Jazz Goes to College, und Jazz Goes to Junior College.
The Dave Brubeck Quartet fue un cuarteto de jazz, fundado en 1951 por Dave Brubeck e integrado originalmente por Paul Desmond con el saxo y Brubeck al piano.1​ Comenzaron con una larga serie de presentaciones en el pub Blackhawk, en San Francisco, y adquirieron notoriedad haciendo giras por campus universitarios y lanzando una serie de álbumes con títulos como Jazz at Oberlin, Jazz Goes to College y Jazz Goes to Junior College.
En 1958, luego de probar algunos contrabajistas y algunos bateristas, quedaría finalmente formado el "Cuarteto Clásico" — llamado así porque mantuvo prácticamente la misma formación hasta su disolución. Sus integrantes eran Brubeck, Desmond, Joe Morello en la batería y Eugene Wright en el bajo.​
En 1959, el Dave Brubeck Quartet lanzó Time Out, un álbum que generó entusiasmo en su productora, aunque esta mantuviese reservas respecto a su lanzamiento. El álbum comprendía composiciones originales y casi ninguno de los temas tenía una métrica simple. Con estos ritmos musicales irregulares e inusuales (el disco incluía "Take Five", "Blue Rondo à la Turk" y "Pick Up Sticks"), alcanzó rápidamente un alto número ventas y la categoría de disco de platino en su país.
El cuarteto dio continuidad a este éxito con un gran número de nuevos discos dentro de la misma línea musical, incluyendo Time Further Out (1961), Countdown: Time in Outer Space, Time Changes y Time In. Estos discos también obtuvieron reconocimimento por adoptar pinturas contemporáneas famosas para su presentación estética de tapa, incluyendo trabajos de Neil Fujita en Time Out, de Joan Miró en Time Further Out, de Franz Kline en Time in Outer Space y de Sam Francis en Time Changes.
En la tapa de otros discos, como Time In, no se usó una obra de arte. Un momento importante en la exitosa carrera del cuarteto fue su disco en vivo de 1963, At Carnegie Hall, descrito por el crítico Richard Palmer como "posiblemente el mejor concierto de Dave Brubeck".
La formación "clásica" del Dave Brubeck Quartet se desmanteló en 1967, habiéndose reunido nuevamente tan solo para su 25º aniversario en 1976.​ Brubeck formó un nuevo cuarteto en 1968.
En 2009, el Dave Brubeck Quartet continúa realizando giras internacionales e interpretando éxitos de la época del Cuarteto clásico, como también material nuevo.
Il The Dave Brubeck Quartet è stato un gruppo musicale jazz, fondato dal pianista Dave Brubeck nel 1951.
Ottenne un grosso successo di pubblico con l'album Time Out del 1959 trainato dal brano Take Five.