Stevie Wonder: the 100 most inspiring musicians of all time
American singer, songwriter, and multi-instrumentalist, Stevie Wonder (b. May 13, 1950, Saginaw, Mich., U.S.) was a child prodigy who developed into one of the most creative musical figures of the late 20th century.
Blind from birth and raised in inner-city Detroit, he was a skilled musician by age eight. Renamed Little Stevie Wonder by Berry Gordy, Jr., the president of Motown Records—to whom he was introduced by Ronnie White, a member of the Miracles—Wonder made his recording debut at age 12.
The soulful quality of his high-pitched singing and the frantic harmonica playing that characterized his early recordings were evident in his first hit single, "Fingertips (Part 2)," recorded during a show at Chicago's Regal Theatre in 1963.
But Stevie Wonder was much more than a freakish prepubescent imitation of Ray Charles, as audiences discovered when he demonstrated his prowess with piano, organ, harmonica, and drums.
By 1964, he was no longer described as "Little," and two years later his fervent delivery of the pounding soul of "Uptight (Everything's Alright)," which he also had written, suggested the emergence of both an unusually compelling performer and a composer to rival Motown's stable of skilled songwriters. (He had already cowritten, with Smokey Robinson, "The Tears of
a Clown.")
Over the next five years Wonder had hits with "I Was Made to Love Her," "My Cherie Amour" (both cowritten with producer Henry Cosby), and "For Once in My Life," songs that suited dancers as well as lovers. Where I'm Coming From, an album released in 1971, hinted not merely at an expanded musical range but, in its lyrics and its mood, at a new introspection. Music of My Mind (1972) made his concerns even more plain.
In the interim, he had been strongly influenced by Marvin Gaye's What's Going On, the album in which his Motown stablemate moved away from the label's "hit factory" approach to confront the divisive social issues of the day. Any anxieties Gordy may have felt about his protégé's declaration of independence were amply calmed by the run of recordings with which Wonder obliterated the competition in the mid-1970s.
Those albums produced a steady stream of classic hit songs, among them "Superstition," "You Are the Sunshine of My Life," "Higher Ground," "Living for the City," "Don't You Worry 'Bout a Thing," "Boogie on Reggae Woman," "I Wish," and "Sir Duke." Although still only in his mid-20s, Stevie Wonder appeared to have mastered virtually every idiom of African-American popular music and to have synthesized them all into a language of his own.
His command of the new generation of electronic keyboard instruments made him a pioneer and an inspiration to rock musicians, the inventiveness of his vocal phrasing was reminiscent of the greatest jazz singers, and the depth and honesty of his emotional projection came straight from the black church music of his childhood.
Such a fertile period was unlikely to last forever, and it came to an end in 1979 with a fey and overambitious extended work called Stevie Wonder's Journey Through the Secret Life of Plants.
Thereafter, his recordings became sporadic and often lacked focus, although his concerts were never less than rousing.
The best of his work formed a vital link between the classic rhythm and-blues and soul performers of the 1950s and '60s and their less commercially constrained successors. Yet, however sophisticated his music became, he was never too
proud to write something as apparently slight as the romantic gem "I Just Called to Say I Love You" (1984).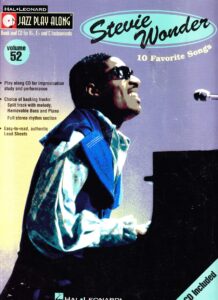 He was inducted into the Rock and Roll Hall of Fame in 1989 and received a Grammy Award for lifetime achievement in 2005. In 2008 the Library of Congress announced that Wonder was the recipient of its Gershwin Prize for Popular Song.
Track List:
00:00 Fingertips (1962)
02:52 The Square (1962)
05:45 Soul Bongo (1962)
07:58 Manhattan At Six (1962)
11:37 Paulsby (1962)
14:19 Some Other Time (1962)
19:21 Wondering (1962)
22:05 Session Number 112 (1962)
25:17 Bam (1962)
28:49 Hallelujah, I Love Her So (1962)
31:12 Ain't That Love (1962)
33:49 Don't You Know (1962)
36:46 The Masquerade (1962)
41:56 Frankie And Johnny (1962)
44:39 Drown In My Own Tears (1962)
48:01 Come Back Baby (1962)
50:48 Mary Ann (1962)
53:43 Sunset (1962)
57:10 My Baby's Gone (1962)