Duke Ellington "Perdido" (1964)
"Perdido"
"Perdido" is a jazz standard composed by Juan Tizol that was recorded on December 3, 1941 by Duke Ellington. However, it is the January 21, 1942, recording of the song on the Victor label by the Ellington orchestra, of which Tizol was a member, that is regarded as the original recording.
In 1944, Ervin Drake and Hans Lengsfelder were hired to write lyrics for the song. "Perdido" was not usually sung with the Ellington band, the exception being Ella Fitzgerald on her 1957 album Ella Fitzgerald Sings the Duke Ellington Songbook.
Many others recorded the song, including Sarah Vaughan, Dinah Washington, Art Tatum, Quincy Jones, the Charlie Parker Quintet, Dave Brubeck, Charles Mingus, Randy Weston, Erroll Garner, Bill Doggett, and Harry James. "Perdido" is Spanish and means lost, but also sloppy or indecent.
The song refers to Perdido Street in New Orleans.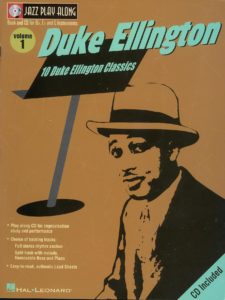 Duke Ellington
Edward Kennedy "Duke" Ellington (April 29, 1899 – May 24, 1974) was an American composer, pianist, and leader of a jazz orchestra, which he led from 1923 until his death over a career spanning more than six decades.
Born in Washington, D.C., Ellington was based in New York City from the mid-1920s onward and gained a national profile through his orchestra's appearances at the Cotton Club in Harlem. In the 1930s, his orchestra toured in Europe. Although widely considered a pivotal figure in the history of jazz, Ellington embraced the phrase "beyond category" as a liberating principle and referred to his music as part of the more general category of American Music.
Some of the jazz musicians who were members of Ellington's orchestra, such as saxophonist Johnny Hodges, are considered among the best players in the idiom. Ellington melded them into the best-known orchestral unit in the history of jazz. Some members stayed with the orchestra for several decades.
A master at writing miniatures for the three-minute 78 rpm recording format, Ellington wrote more than one thousand compositions; his extensive body of work is the largest recorded personal jazz legacy, and many of his pieces have become standards. He also recorded songs written by his bandsmen, for example Juan Tizol's "Caravan", and "Perdido", which brought a Spanish tinge to big band jazz. In the early 1940s, Ellington began a nearly thirty-year collaboration with composer-arranger-pianist Billy Strayhorn, whom he called his writing and arranging companion.
With Strayhorn, he composed many extended compositions, or suites, as well as additional short pieces. Following an appearance at the Newport Jazz Festival in July 1956, Ellington and his orchestra enjoyed a major revival and embarked on world tours. Ellington recorded for most American record companies of his era, performed in and scored several films, and composed a handful of stage musicals.
Ellington was noted for his inventive use of the orchestra, or big band, and for his eloquence and charisma. His reputation continued to rise after he died, and he was awarded a posthumous Pulitzer Prize Special Award for music in 1999.
Tributes
After Duke died, his son Mercer took over leadership of the orchestra, continuing until his own death in 1996. Like the Count Basie Orchestra, this "ghost band" continued to release albums for many years. Digital Duke, credited to The Duke Ellington Orchestra, won the 1988 Grammy Award for Best Large Jazz Ensemble Album. Mercer Ellington had been handling all administrative aspects of his father's business for several decades. Mercer's children continue a connection with their grandfather's work.
Gunther Schuller wrote in 1989:
Ellington composed incessantly to the very last days of his life. Music was indeed his mistress; it was his total life and his commitment to it was incomparable and unalterable. In jazz he was a giant among giants. And in twentieth century music, he may yet one day be recognized as one of the half-dozen greatest masters of our time.
Martin Williams said: "Duke Ellington lived long enough to hear himself named among our best composers. And since his death in 1974, it has become not at all uncommon to see him named, along with Charles Ives, as the greatest composer we have produced, regardless of category."
In the opinion of Bob Blumenthal of The Boston Globe in 1999: "[i]n the century since his birth, there has been no greater composer, American or otherwise, than Edward Kennedy Ellington."
In 2002, scholar Molefi Kete Asante listed Duke Ellington on his list of 100 Greatest African Americans.
Star on the Hollywood Walk of Fame at 6535 Hollywood Blvd.
His compositions have been revisited by artists and musicians around the world both as a source of inspiration and a bedrock of their own performing careers.
There are hundreds of albums dedicated to the music of Duke Ellington and Billy Strayhorn by artists famous and obscure. Sophisticated Ladies, an award-winning 1981 musical revue, incorporated many tunes from Ellington's repertoire. A second Broadway musical interpolating Ellington's music, Play On!, debuted in 1997.