Keith Jarrett: an amazing musician, an outstanding personality
Born May 8, 1945, in Allentown, Pennsylvania, Keith Jarrett began playing the piano at age 3 and undertook classical music studies throughout his youth; performing as a child in programs at the Academy of Music in Philadelphia and at Madison Square Garden. He undertook formal composition studies at age 15, before moving to Boston to briefly study at the Berklee College of Music.
While still in his late teens, arrangements were made to study composition in Paris with the great pedagogue Nadia Boulanger, but then canceled at the last moment in favor of moving to New York in 1964 to play jazz.
After a tentative period sitting in at the Village Vanguard and other New York jazz spots, Jarrett toured first with Art Blakey's Jazz Messengers. From 1966 to 1968 he was the pianist with the Charles Lloyd Quartet which quickly became one of the most popular groups on the changing late-Sixties jazz scene with best-selling records and worldwide tours. He soon led his own trio with Charlie Haden and Paul Motian (which in 1972 expanded to a quartet with the addition of tenor saxophonist Dewey Redman).
Then in 1970/71, Jarrett became a featured member in Miles Davis' electric fusion group, playing electric piano and organ – his last stint as a sideman, thereafter, dedicating himself exclusively to performing acoustic music as a solo artist and as a leader.
In 1971, Keith Jarrett began his recording collaboration with German producer Manfred Eicher and ECM Records (Editions of Contemporary Music). This fruitful collaboration has produced over 60 recordings to date, unparalleled in their scope, diversity, and quality.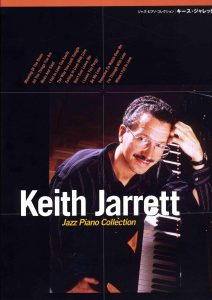 The foundation of the Jarrett/ECM discography is made up of the landmark solo piano recordings which have helped redefine the role of the piano in contemporary music. The piano improvisations on Facing You, Solo Concerts, The Köln Concert, Staircase, Sun Bear Concerts, Moth and The Flame, Concerts, Paris Concert, Dark Intervals, Vienna Concert, and La Scala incorporate a broad spectrum of musical idioms and languages – classical, jazz, ethnic, gospel, folk, blues and pure sound – revealing a creative process based on a deeply conscious state of awakeness and listening in the moment, producing music both deeply personal, yet universal.
This body of solo piano work is without precedent with the Köln Concert being the best selling piano recording in history.
In May 2005, ECM released Radiance, a new 2-CD set of solo piano improvisations recorded live in Japan in November 2002.
On September 26, 2005 Keith Jarrett performed his first American solo concert in nearly a decade at New York's Carnegie Hall. The sold out concert which featured five encores including solo versions of his popular compositions My Song and Paint My Heart Red was recorded and is being prepared for CD release by ECM in September 2006.
In 1999, The Melody At Night, With You, a solo piano studio recording of classic melodies was released by ECM and has become one of the best selling instrumental recordings by a jazz artist in the past decade, winning many "Best of the Year" awards in Europe, Japan and the US.
For the past two decades, Keith Jarrett's main context for playing jazz has been his trio with bassist Gary Peacock and drummer Jack DeJohnette, which in 2003 celebrates its 20th Anniversary together. The trio first played together in 1977, when Jarrett and DeJohnette played on Peacock's first ECM Records recording, Tales of Another (Jarrett and DeJohnette had already played together in the late-'60's with both Charles Lloyd and Miles Davis).
In 1983, Jarrett invited the other two to make playing "standards" – the rich body of American Broadway show and jazz tunes from the 1930's, '40s and '50s. At the time it was considered passé for top players to concentrate on "standards", instead of original material, but Jarrett thought it was important to show that: "Music wasn't about the material, but what the player brings to the material."
The original 1983 trio session in New York produced the trio's first three ECM releases: Standards Vol. 1 and Vol. 2, and Changes. Thirteen "live" concert recordings have followed on ECM, each recorded in a different international city: Standards Live (Paris 1985), Still Live (Munich 1986), Changeless (US Tour 1987), Tribute (Cologne 1989), Standards in Norway (Oslo 1989), The Cure (New York/Town Hall 1990), Live at The Blue Note (New York 1994), Tokyo '96 (Tokyo, 1996), Whisper Not (Paris 1999), and the releases, Inside Out (London, 2000) and Always Let Me Go (Tokyo, 2001), both recordings of freely improvised trio music recorded live in concert.
In 2003, in celebration of their 20-year collaboration, ECM released Up For It – a live recording capturing the trio's 2002 performance at the Festival de Jazz D'Antibes/Juan-Les-Pins (France). The latest trio release is The Out-of-Towners, a live concert recording taken from the trio's July 2001 concert at Munich's State Opera House which was nominated for a Grammy in 2004 and was recently awarded the Deutsche Schallplattenpreis in Germany
The 1995 ECM release, Keith Jarrett At The Blue Note: The Complete Recordings, is a special 6-CD box set that captures the trio's complete, sold out engagement at the Blue Note jazz club in New York in June 1994. Featuring nearly 40 standards, Jarrett originals, plus extended trio improvisations, the CD box set was voted "Album of the Year" in the 1996 Downbeat Critics Poll.
In 1991, two weeks after the death of Miles Davis, the trio returned to the studio for the first time in 8 years to record Bye Bye Blackbird, their deeply felt tribute to the jazz giant that all three had played with in their early years.
Another Jarrett trio release on ECM is At The Deer Head Inn, a recording that captures him playing a one-time-only gig with his old friends Paul Motian and Gary Peacock at The Deer Head Inn, a venerable 14O-year old inn in the Pocono Mountains in Eastern Pennsylvania with a 60-year history of presenting jazz, where Jarrett played his first professional jazz gig as a leader at age 16.
There are also 4 ECM releases by BELONGING, Jarrett's acclaimed late-1970's Scandinavian quartet featuring Jan Garbarek (saxophone), Palle Danielsson (bass) and Jon Christensen (drums). Several of the quartet's recordings which include Belonging, My Song, Nude Ants, and Personal Mountains became bestsellers, influencing a whole generation of young players in Europe and the US.
Other early Jarrett jazz recordings include more than a dozen recordings by his original quartet with Charlie Haden, Paul Motian, and Dewey Redman for Atlantic, Columbia, Impulse Records and ECM – The Mourning of a Star, Birth, El Juicio, Expectations, Fort Yawuh, Treasure Island, Death and the Flower, Back Hand, Mysteries, Shades, The Survivor's Suite, and Eyes of the Heart – many of which won "Best of the Year" awards from international music press.
Impulse/GRP Records has released two multi-CD sets, The Keith Jarrett: Impulse Years, 1973-1974 (5-CD set) and Mysteries: The Impulse Years 1975-76 (4-CD set) that include the complete Impulse recordings of his American quartet with Haden, Redman and Motian. The two volumes document in depth the main body of recorded work of one of the period's finest acoustic jazz groups, featuring all the music on the eight original Impulse LPs, plus more than two hours of previously unreleased alternate takes from the original Impulse sessions.
Rhino/Atlantic Records has released a 2-CD retrospective box set, Foundations, that documents the early years in Jarrett's recording history from 1966-1974 with selected tracks from the early Atlantic sessions with the American trio/quartet, plus Jarrett's first recordings as a sideman with Art Blakey and Charles Lloyd, and studio sessions with Jim Pepper/Bob Moses (previously unreleased), Gary Burton and Airto.
For Jarrett, one of his most important recordings is Spirits, a deeply personal and primal work of musical communion on which he alone plays all the instruments – recorders, Pakistani wooden flute, tabla, various percussion instruments, guitar, saxophone, piano, and chant – guided more by intuition, than by technical conditioning.
The haunting music, reminiscent of both ethnic and medieval music, was recorded simply by Jarrett at his home in 1985 with no engineer or other people present using only two cassette tape recorders and two microphones with each instrument being added layer by layer. He considers this music to be vertical communion (from the earth up), rather than horizontal communication. Spirits joins Hymns/Spheres (organ), Book of Ways (clavichord), and Vienna Concert (piano) on Jarrett's personal short list of his most essential recordings. Each of these varied musical invocations exemplifies the pure essence of true improvisation.
Other Jarrett/ECM releases include Sacred Hymns, a recording of mystic philosopher G.I. Gurdjieff's sacred piano music as transcribed by Thomas DeHartmann a performance of Arvo Pärt's "Fratres" with violinist Gidon Kremer on the Pärt release Tabula Rasa.
There are several recordings of Jarrett orchestral/chamber music compositions – In The Light, Arbour Zena and Luminessence (both featuring saxophonist Jan Garbarek), Celestial Hawk (with the late Christopher Keene and Syracuse Symphony); and Bridge of Light which features Jarrett's chamber orchestral compositions, Elegy for Violin and String Orchestra, Adagio for Oboe and Strings, Bridge of Light for Viola and Orchestra as performed by The Fairfield Orchestra under the direction of Thomas Crawford (conductor) with soloists Michelle Makarski (violin), Patricia McCarty (viola), and Marcia Butler (oboe); plus the Jarrett Sonata for Violin and Piano with Ms. Makarski (violin) and Mr. Jarrett (piano). The scores and parts for these four compositions are currently available through our Sheet Music Library.
Classical music releases by Keith Jarrett on ECM include the J.S. Back keyboard works: Well-Tempered Clavier Book I (piano) and Book II (harpsichord), Goldberg Variations (harpsichord), French Suites (harpsichord), and Sonatas for Viola Da Gamba and Cembalo with Kim Kashkashian (viola) and Jarrett (harpsichord).; plus the Shostakovich 24 Preludes and Fugues, Op. 87; and a piano recording of selected Handel Keyboard Suites. And there are two ECM volumes of Jarrett performing selected Mozart Piano Concertos with the Stuttgart Kammerorchester under the direction of Dennis Russell Davies.
BMG/RCA Records has released two CD's with Jarrett (harpsichord) accompanying Michala Petri, the Danish recorder virtuoso, performing the Handel Sonatas for Recorder and Harpsichord, and the J.S. Bach Sonatas for Flute and Harpsichord.
Other Jarrett recordings of contemporary piano literature include on New World Records, the Lou Harrison Piano Concerto (composed for Jarrett) and Harrison's Suite for Violin, Piano and Orchestra (Lucy Stoltzman, violin); and on MusicMasters Records, Alan Hovaness's Lousadvak for Piano and Orchestra with the American Composers Orchestra and Dennis Russell Davies (conductor) and the Etruscan Concerto by Australian composer Peggy Glanville-Hicks with the Brooklyn Philharmonic with Mr. Davies conducting.
Keith Jarrett has performed baroque, classical and contemporary keyboard music at many of the major international music centers including works by Barber, Bartók, Peggy Glanville-Hicks, Lou Harrison, Alan Hovhaness, Colin McPhee, Mozart and Stravinsky performed with the symphony orchestras of Boston, San Francisco, Philadelphia, Detroit, Atlanta, Brooklyn, Rochester, as well as the American Composers Orchestra, Beethovenhalle Orchestra Bonn, Handel and Haydn Society (Boston), the St. Paul and English Chamber orchestras with conductors John Adams, Vladimir Ashkenazy, Dennis Russell Davies, John Eliot Gardiner, Christopher Hogwood, Christopher Keene, Jeffrey Tate, and Hugh Wolff.
Recitals of works by J.S. & C.P.E. Bach, Bartók, Beethoven, Handel, Hindemith, Mozart, Purcell, Scarlatti, and Shostakovich have been performed at Lincoln Center, The Kennedy Center, Beethovenhaus (Bonn), Franz Liszt Academy of Music (Budapest), and in San Francisco, Boston, Minneapolis, Toronto, and Stockholm.
Numerous Jarrett compositions received their premieres at major music centers. Celestial Hawk for Orchestra, Percussion, and Piano premiered in 1980 with Christopher Keene and the Syracuse Symphony at Carnegie Hall and in Syracuse. Adagio for Oboe and String Orchestra premiered in 1984 with the Pasadena Chamber Orchestra and Elegy for Violin and String Orchestra premiered in 1985 in Tokyo.
Elegy had its American premiere in 1986 with Dennis Russell Davies and the Philadelphia Orchestra. Sacred Ground for Piano, Flute, Cello, and Clarinet was commissioned by the Chamber Music Society of Lincoln Center and had its premiere in 1985 with Mr. Jarrett joined by Paula Robison, Fred Sherry and Richard Stoltzman. Woodwind Quintet premiered in 1989 with the Dorian Wind Quintet. Bridge of Light for Viola and Orchestra premiered in 1991 with violist Patricia McCarty and The Fairfield Orchestra with Thomas Crawford.
In 1987, Chamber Music Chicago dedicated an evening at Orchestra Hall to Keith Jarrett as composer with the world premiere of four Jarrett chamber music works: Rem(a)inders for Piano, Clarinet, Flute, Cello, and Violin ; Terra Cotta for Clarinet and Tuned Drums ; Suite for Solo Violin; and Sonata for Flute and Piano. In March 1992, the Lincoln Center Great Performers Series hosted an evening dedicated to Keith Jarrett's orchestral works with performances of Bridge of Light, Elegy, Adagio for Oboe, plus Sonata for Violin and Piano.
Two books about Keith Jarrett have been published. Keith Jarrett: Inner Views written by Kunihiko Yamashita, former editor of JazzLife (Japan), has been published in Japan and Italy. Keith Jarrett: A Man and His Music, a biography written by the acclaimed British jazz trumpeter and critic Ian Carr, has been published in Britain by Grafton Books and in the US by Da Capo Books.
As an essayist, Mr. Jarrett has been invited to contribute critical essays to the New York Times, Musician and Downbeat magazines. He has also written forwards to The Piano Book, by Larry Fine on Brookside Press (US) and The Complete Guide to High-End Audio by Robert Harley on Accapella Publishing (US) and a preface for the American edition of Geoff Dyer's But Beautiful (North Point Press), an evocative work on jazz.
Seven Keith Jarrett concert videos have been filmed in Tokyo and released worldwide on DVD. Last Solo documents Jarrett's last solo concert before taking a 4-year hiatus (1983-87) from all solo work. Standards I and Standards II feature the trio in concert in Tokyo in 1985 and 1986. Solo Tribute captures a rare solo piano concert in 1987 with Jarrett performing a complete evening of solo "standards", rather than with his trio. The Keith Jarrett Trio: Live at The Open Air Theatre East and Keith Jarrett/Gary Peacock/Jack DeJohnette Tokyo '96 capture the trio's 1993 and 1996 Tokyo performances. In May 2006 ECM released its first DVD, Keith Jarrett: Tokyo Solo, a complete concert video filmed in November 2002.
In May 2005 on the occasion of his 60th Birthday, a full length 90-minute documentary film entitled Keith Jarrett: The Art of Improvisation was released worldwide on DVD (Euro Arts). The film, directed by British documentary film maker Mike Dibb in collaboration with Keith Jarrett biographer Ian Carr, explores in depth Keith Jarrett's music and work over the past 40 years.
Keith Jarrett's many honors include a Guggenheim Fellowship, Prix du President de la Republique and Grand Prix du Disque awards from the Academie Charles Cros (France), seven Deutscher Schallplattenpries (Germany), and eight Grammy (US) nominations in both the jazz and classical categories.
He has received dozens of "Artist" or "Album of the Year" awards from the New York Times, New Yorker, Time, Stereo Review, Downbeat, Billboard, CD Review, and Rolling Stone; including Best Classical Keyboardist in Keyboard Magazine Reader's Polls (1991, '93), Best Classical CD in CD Review Editor's Poll (1992) for the Shostakovich 24 Preludes and Fuques, Op. 87; and dozens of "Critic's" and "Best of The Year" awards" from the international music press. The Melody At Night, With You (1999) , Whisper Not (2000), and Up For It (2003) all received Swing Journal's Gold Disc Award for "Best Album of the Year" in Japan, as well as the Choc des Chocs Award from Jazzman Magazine (France).
In the annual Downbeat Magazine polls, Keith Jarrett has garnered multiple awards for "Pianist of The Year" in the Critics Poll (1996, and '01 to '05 consecutively ) and Readers Poll (1994, '96/97, and '99/'05 consecutively), "Best Acoustic Group" in the Readers Poll (1998/99 and 2004)), and "Album of The Year" in the Critics Poll (1996) for the Live At The Blue Note.
In 1989, Jarrett was named "Officier de L'Ordre des Arts et des Lettres", one of the highest honors the French Ministry of Culture can bestow on an artist. In 1996, he was elected a member of the Royal Swedish Academy of Music, joining Duke Ellington as only the second foreign jazz artist to ever be so honored. In 2002, he was elected to be Fellow of the American Academy of Arts and Sciences, the America's oldest honorary society founded in 1780.
In 2003 Keith Jarrett was awarded the 2003 Polar Music Prize,, one of the world's most prestigious music awards, presented by the King of Sweden in a special televised ceremony in Stockholm. Then July 2004, he was presented the Leonie Sonning Prize in Copenhagen, another of the world's major music awards. He is only the second jazz artist to receive the Sonning Prize since it's founding in 1959, Miles Davis being the first in 1985. Also in July 2004, he was presented with the Miles Davis Prize by the 25th Anniversary of the Festival International de Jazz de Montreal.
Keith Jarrett was the first musician to ever perform improvised music at several of the world's most important music venues. In 1978 he performed at the Metropolitan Opera in New York; 1990 at the Musikverein in Vienna; 1991 at the Vienna State Opera (Staatsoper); and 1995 at La Scala in Milan.
Keith Jarrett – The Art of Improvisation COMPLETE (full documentary, including the extra interviews)
Form, Content and Development of Ideas
There seems to be two different approaches to form treatment in Jarrett's improvisations. One, characterised by the use of a single motif in the introduction and quoted several times during the improvisation. Another one, a lot more diverse and aleatoric, sometimes based on a single idea, sometimes alternating between theoretical concepts and experimentations.
Use of Rhythms and Harmonic/Melodic Content
There is a strong diversity of rhythms in Jarrett's improvisations, including rhythmic placements and approach to time treatments. Keith Jarrett often uses right-hand odd-numbered duplets in long and fast scalar runs, which are opposed to sparse and airy left-hand accompaniment. He has a strong control over silence, which is eased by the solo configuration.
Variety of Styles and Genres
Keith Jarrett's improvisations have always been the result of many styles and genres influences, running from baroque polyphony and counterpoint, to twentieth century atonality, folk music as well as bebop, country, rock, gospel, minimalism.
Eventually, one of Keith Jarrett's instant signature traits, and perhaps what makes him so melodic, is his vocalizing and grinning while improvising…